A Favorite French Vegetable Dish
Make this Ratatouille Recipe a Family Favorite
I love trying dishes from different cultures, which brought me to this ratatouille recipe. I feel a little pigeonholed in the knowledge I had of food growing up on the basic American diet. To be fair to my mom, she did have 5 kids to feed, so simple and bulk was the way to go. I didn't know that bell peppers came in different colors until I moved to London when I was in my mid 20's. Honestly, it was like a vegetarian's dream moving to London.
That's where my diet really changed. The way food was represented, presented, and priced opened me up to limitless possibilities of flavor combination. And honestly, with less preservatives in my diet my stomach functioned a lot less painfully.
This was also the time that eggplant, or aubergine, came into my vocabulary. It's such a pretty vegetable. The color alone brightens up any dish (except baba ganoush). This ratatouille recipe is full of colors, eggplant, squash, fresh basil, tomatoes. The flavor is just as bright as the colors. The only question, how do you cook eggplant?
The first time I had eggplant, it was stuffed with some sort of meat mixture. This is something I've had to deal with my entire life, eat around the meat. So I did so, quite poorly and tried my best not to upset my host.
This ratatouille recipe takes 1 hour and 15 minutes. The majority of that time is the cook time (50 minutes), with the remainder being the prep time. The eggplant requires to be drained of liquid, a simple process, and you don't have to do much.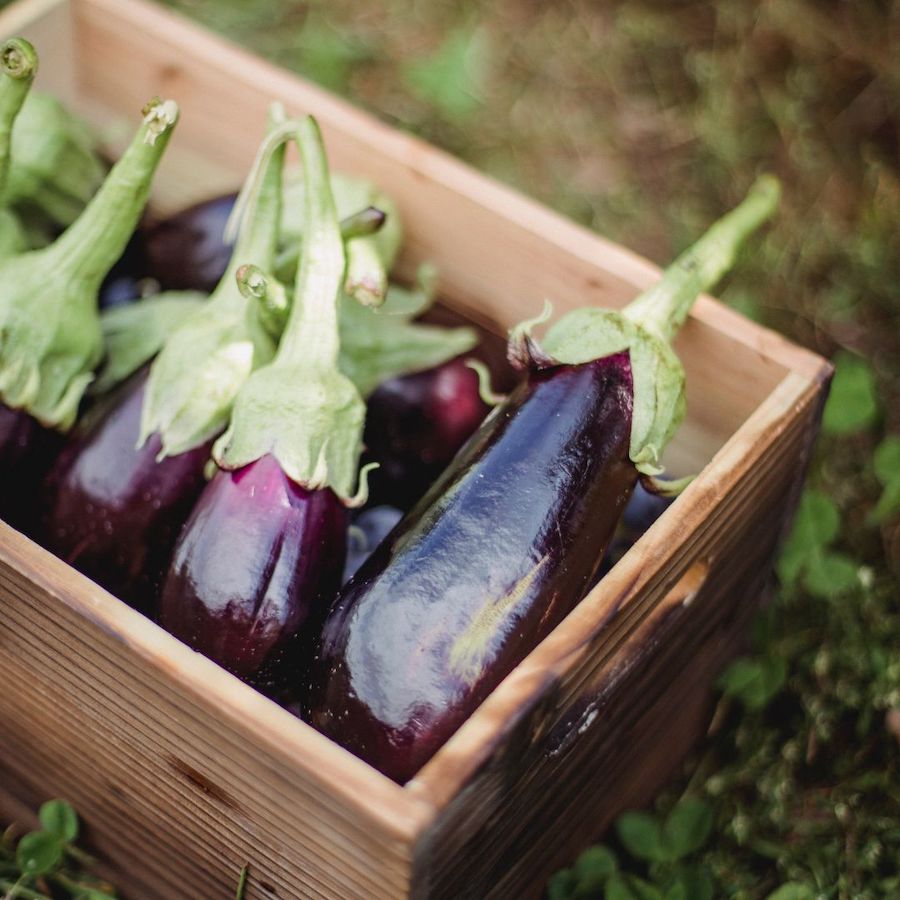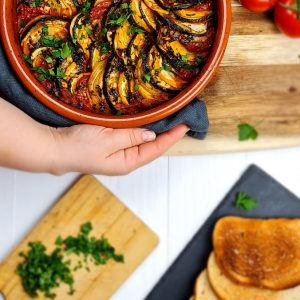 Ratatouille
Ingredients
2

medium eggplants

cut into 1/2″ cubes

Kosher salt

1/4

c

extra-virgin olive oil

1

large yellow onion

chopped

8

cloves

garlic

finely chopped

Freshly ground black pepper

1

bell pepper

seeds and stem removed, chopped

2

small zucchinis

cut into 1/2″ cubes

1

t

chopped fresh rosemary

1

T

fresh thyme leaves

1

beefsteak tomato

diced

1

t

granulated sugar

1

c

canned crushed tomatoes

10

fresh basil leaves

thinly sliced, plus more for serving
Instructions
Prep Eggplant
Double up a colander and a bowl. Place eggplant in colander with 1 t of salt and sit for 30 min.

2 medium eggplants,

Kosher salt

After 30 minutes, squeeze off excess moisture and pat dry with paper towels.
Onion Mixture
In a large pot over medium heat, add 1 T olive oil then add onion and 2 chopped garlic cloves.

1 large yellow onion,

8 cloves garlic

Season with ¼ t salt and ¼ t pepper. Stir occasionally until onions are translucent, about 5-6 minutes.

Add bell pepper and continue cooking until softened, about 6-7 minutes. Stir occasionally.

Transfer to large bowl.
Zucchini
Use the same pot to heat an additional 1 T olive oil. Add zucchini, rosemary and 2 chopped garlic cloves.

2 small zucchinis,

1 t chopped fresh rosemary

Season with ¼ t salt and ¼ t pepper.

Stir often, until zucchini softens and turns golden, about 8 minutes.

Transfer zucchini into bowl with onion mixture.

Eggplant
Use the same pot to heat an additional 1 T olive oil. Add eggplant, thyme, and 2 chopped garlic cloves.

Stir often, until eggplant turns golden and translucent, about 8 minutes.

Transfer eggplant into bowl with onions and zucchini.
Diced Tomatoes
Use the same pot to heat an additional 1 T olive oil. Add diced tomatoes, sugar, remaining garlic, ¼ t salt and ¼ t pepper.

1 beefsteak tomato,

1 t granulated sugar

Stir often, until tomatoes begin to break down and caramelize, about 6-8 minutes.
Ratatouille
Add crushed tomatoes to diced tomato pot, along with sliced basil.

1 c canned crushed tomatoes,

10 fresh basil leaves

Add eggplant, onions, and zucchini to pot.

Bring to simmer. Stir occasionally.

Reduce heat to medium-low and continue to simmer until vegetable textures melt together, about 8-10 minutes.
Serve
Top with more basil.

Goes great with sourdough bread.

Frequently Asked Questions About Eggplant
How to cook eggplant/how to cook aubergine?
To cook eggplant you can roast it, bake it in a dish, fry it in a pan. You can eat the whole eggplant, or you can pull out the middle and just eat the flesh and rind.u003cbru003eu003cbru003eEggplant is also known as aubergine.
Can you freeze eggplant?
Yes! You can freeze eggplant. If it is in a dish you can freeze it after it cools. But, because there is a lot of water in eggplants, they don't freeze well raw. It's best to cook it first, and then freeze.
How to grow eggplant?
Eggplant vines grow up, similar to tomatoes. Once the plant starts shooting up, support it with a stake. Once the eggplant itself starts to grow, it can pull the vines down and damage it from producing further eggplants. u003cbru003eu003cbru003eThese plants like a lot of nutrition, make sure you are providing mulch, or fertilizer, or other nutrition to the plants.u003cbru003eu003cbru003eIt's time to harvest once the eggplant turns a lovely shiny color.
How to roast eggplant?
To roast eggplant, cut into 1/2u0022 rounds. Place on baking pan and salt and pepper, you can also drizzle with olive oil. Bake at 400° for up to 30 minutes.
How to store eggplant?
If you have a crisper, that is the best place or an eggplant, but make sure you don't let the eggplant get too cold. If you're going to eat it right away, keep it on a shelf at room temperature. u003cbru003eu003cbru003eIt is very sensitive, any cutting into the flesh will cause it to start to brown. So once you've cut into it, it's all or nothing. u003cbru003eu003cbru003eStore away from apples, peaches, bananas, melons, and tomatoes.
Is eggplant a fruit or vegetable?
Since eggplant grows from a flowering plant and has seeds it is considered a fruit.