Is Risotto a Main Dish or a Side Dish?
Learn how to cook asparagus
Risotto is by far one of my favorite dishes. This risotto with asparagus recipe does not disappoint! I always feel like a master chef when I make a good risotto. Many folks see risotto as a side dish, I see it as a main course. But, of course you can serve it however you wish.
I always see asparagus as a special treat. It goes back to the stories my mom would share of her growing up. She grew up in a rather rural area, rural enough where they would pull out a red carpet for the ice cream truck (no exaggeration here). My mom grew up with a lot of open space and she and her sisters would go ride their bikes through the property, avoiding the ditch with leaches. Wild asparagus grew out on the property. They would make their way out there and grab a little treat. That was the story we would get every time the asparagus was on the table.
It was also always served on its own. It has such a strong flavor that it is a great stand alone dish, also I don't think my adolescent tastebuds could have handled a more complex flavor. But now, now complex flavor is something to live for! But now the question becomes, how to cook asparagus?
Of all the asparagus recipes I like this risotto recipe the best. Risotto itself is a complex flavor, I remember ordering it at a fancy restaurant in Hawaii and I kid you not, I wanted to lick the plate dry. I don't recall ever having that compulsion with any other savory dish, sweet dishes are another thing entirely.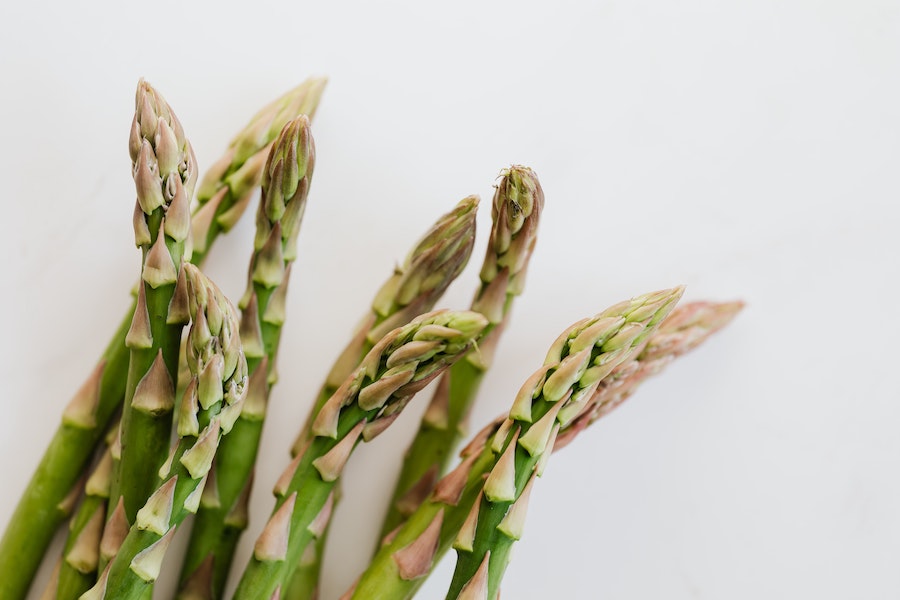 Risotto is a Arborio rice dish that originated in Northern Italy that is cooked in broth until it becomes creamy. Common flavors in risotto are butter, onion, white wine, and Parmesan so it is a rich thick flavor that sticks to your bones.
Risotto is made on the stove. It is a somewhat long process, it will cook until the rice becomes creamy. In this risotto recipe, you will create an asparagus broth and wine to create the risotto. All in all this recipe will take you 50 minutes to complete.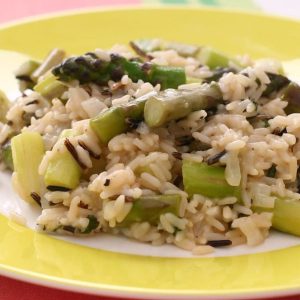 Risotto with Asparagus
Ingredients
2

bunches thick asparagus

about 2 pounds

1

sprig fresh thyme or lemon thyme

4

tablespoons

unsalted butter

1

large shallot

diced

2

cups

arborio rice

Kosher salt

1/3

cup

dry white wine

2

teaspoons

grated lemon zest

Freshly ground pepper

1/3

cup

grated parmesan cheese

2

teaspoons

fresh lemon juice

1

head Bibb lettuce

cut into strips

8

ounces

robiola or taleggio cheese

thinly sliced

Extra-virgin olive oil

for drizzling
Instructions
Asparagus Broth
Break each asparagus where it naturally breaks, reserve 4 of the bottoms. Peel the bottom of these 4 bottoms.

2 bunches thick asparagus

Thinly slice 6 asparagus. Using a saucepan, place the rest of the bottoms in with 8 cups of water. Add the thyme and bring to a simmer.

1 sprig fresh thyme or lemon thyme
Rice
Heat 2 T butter in saucepan over medium heat. Add shallot. Stir about 2 minutes, or until it becomes translucent.

Add rice and cook, about 1 minute, or until glossy.

Add 1 ¼ t salt and wine until absorbed.

1/3 cup dry white wine,

Kosher salt

Add half the asparagus broth (liquid only) in ½ c increments until absorbed. Stir constantly.

Add sliced asparagus bottoms and lemon zest.

2 teaspoons grated lemon zest

Add the remainder of the asparagus broth in ½ c increments until absorbed, until rice is tender.
Asparagus
In a large skillet over medium-high heat, simmer asparagus tips covered in water and seasoned with salt & pepper. About 5 minutes.
Risotto
Add remaining 2 T butter, parmesan, and lemon juice to the rice mixture.

1/3 cup grated parmesan cheese,

2 teaspoons fresh lemon juice,

4 tablespoons unsalted butter

Add in lettuce.

Remove from heat.

Divide into serving bowls.

Top risotto with robiola and salt and pepper.

8 ounces robiola or taleggio cheese

Add asparagus tips over risotto and serve.

Frequently Asked Questions
Can you freeze risotto?
Yes, you can freeze this recipe for up to 3 months.
Is risotto pasta or rice?
This is a common question, is risotto rice or pasta? Well, risotto made with rice, not a pasta.
Is risotto hard to make?
Risotto is not hard to make, it does take some time, but it's worth the wait.
How to cook asparagus
You can bake, steam, and fry asparagus. The easiest way to cook asparagus is to boil it in water until tender.
How does asparagus grow?
Asparagus grows in stalks and takes about a year to grow to the point it can be harvested.
How to cook asparagus in the oven?
Set oven to 400°F, place asparagus on a baking sheet, drizzle with olive oil, salt u0026amp; pepper and bake until just tender (10 to 15 minutes). The longer they cook the soggier the asparagus becomes. You want them just tender to keep the flavor and consistency together.
How long to bake asparagus?
If you're just baking asparagus, and the oven is at 400°F it should take 10-15 minutes to cook. Do not let them cook too long otherwise they will become soggy.
How long to grill asparagus?
You can put the asparagus directly on the grill, perpendicular to the grates. Grill on high heat, preferably with the lid closed for 10 minutes, flipping the asparagus halfway through.
Why does asparagus make your pee smell?
The long and the short of it is the asparagus breaks down into sulfuric byproducts, and that is what you smell leaving your body.
How long to steam asparagus?
Yes, you can freeze asparagus. Cut them into pieces and place them in plastic bags, do not overcrowd the bags.