Well Manicured Lawns Make or Break Your Landscape
Lawn Mower – Product Review
Buying the best lawn mower is a big decision that can be overwhelming. There are so many options on the market, and while this is a good problem to have, how do you know which one is best for you?
The great thing about the vast options available is that you can find a mower that's perfect for you. Before making such a big purchase, it's best to think about what you actually want and need in a lawn mower. To help get started, we've put together a list of things to consider, plus a few highly rated lawn mowers that fit specific needs.
What to consider when buying a Lawn mower
The size and terrain of your lawn
If you're dealing with under an acre, you can probably do well with an economical push mower. For hilly lawns, you might want to consider a self-propelling lawn mower to save yourself from pushing the mower up an incline.
For bigger lawns, you might want to consider a riding mower. These are heavier duty than push or self-propelled mowers and pretty efficient, leaving you time and energy for the rest of your landscaping chores. If there are obstacles in your yard like a patio, pool, or garden bed, you might want to have a small push mower for those areas, as riding mowers have a wide turn radius.
Lawn mowers are typically powered by either gas or electricity. Electric mowers are more environmentally friendly, and are now available in push, self-propelled, or with riding capabilities. The downside is that their batteries have limited run time, so they are better suited for lawns under 2 acres unless you have time to recharge.
While you don't have to worry about run time with gas mowers, there is the additional cost of gas, environmental impacts, and noise level to consider. Electric mowers are very quiet compared to gas mowers.
It's important to be realistic when budgeting for your lawnmower. You can expect to spend at least $300 for a good push mower and riding mowers go for thousands of dollars. Self-propelled mowers work as a great happy medium for most homeowners since they can tackle tough terrain while saving you tiresome work.
Best Gas-Powered Push Mower
Craftsman 140cc 21 Inch 2-in-1 Gas Push Lawn Mower
This push mower is dependable and easy to use, putting it at the top of the list of affordable gas-powered options for smaller lawns. Its lightweight design makes it easy to handle and store, and its mulching action returns nutrients right back to your lawn. Setup is super simple – just lock the handle into place, fill with oil and gas the designated holding tanks, and you're ready to go!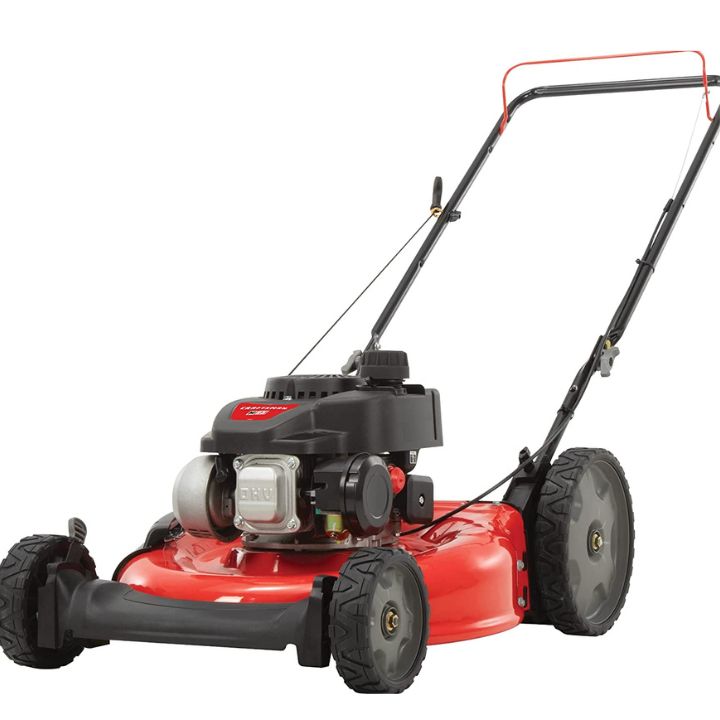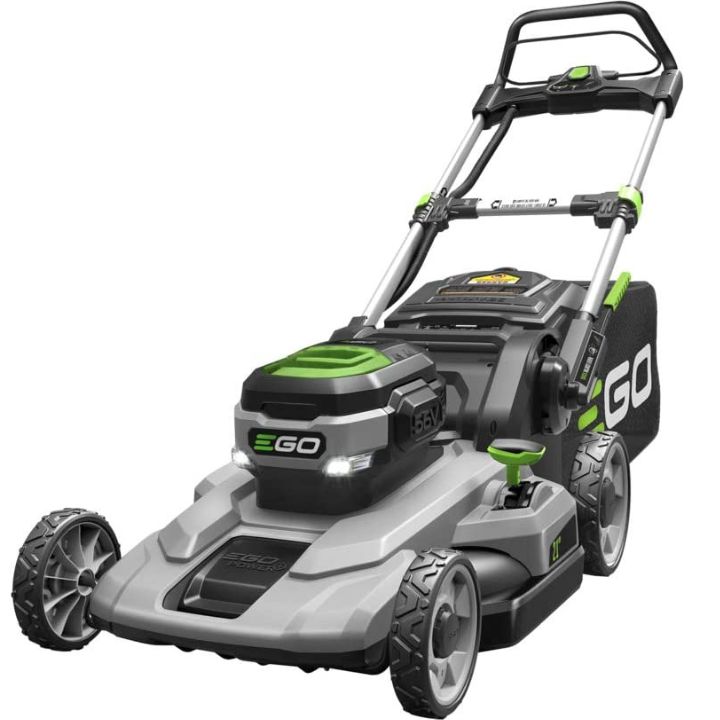 Best Electric Push Mower
EGO Power+ LM2101 21-Inch 56-Volt Lithium-ion Cordless Lawn Mower
For those looking for a good electric push mower, this is a great choice. It has a rechargeable lithium battery and has mulching and bagging capabilities. It has an adjustable deck, so you can cut your grass at any length! Users recommend investing in a backup battery, so you can mow to your heart's content without stopping to recharge.
Best Gas Self-Propelled Mower
PowerSmart Self Propelled Lawn Mower Gas Powered – 21 Inch, 209CC 4-Stroke Engine, 3-in-1
For a bigger or hilly lawn, this self-propelled mower will save you a lot of work. It has a powerful engine and is delivered to you 95% assembled, and has side discharge, mulching, and bagging capabilities. It also has 5 adjustable heights, allowing you to choose grass lengths between 1.18 and 3 inches.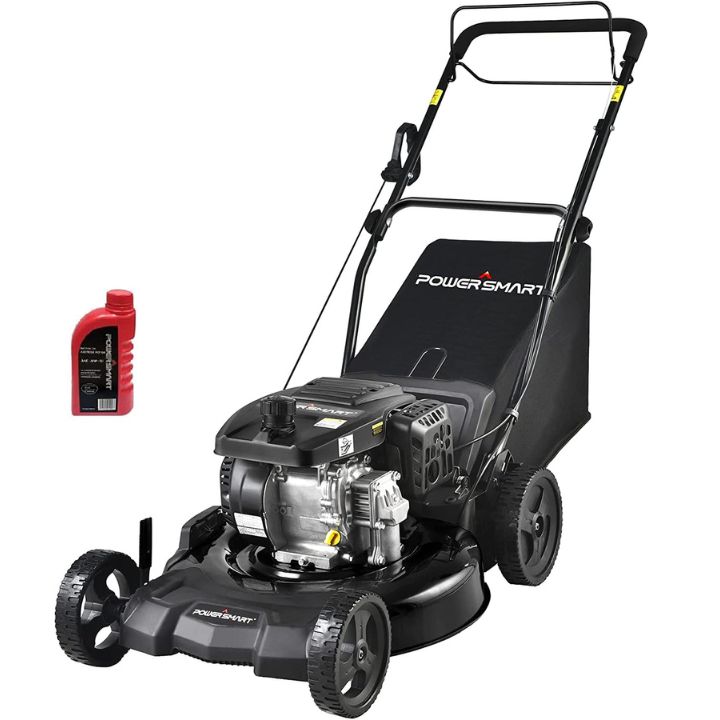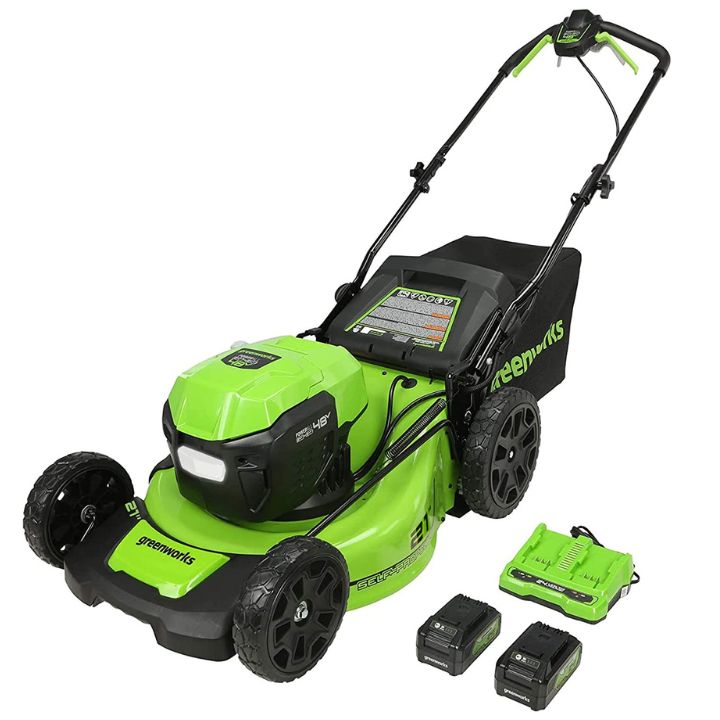 Best Electric Self-Propelled Mower
Greenworks 2 x 24V (48V) 21″ Brushless Cordless Self-Propelled Lawn Mower
If you're looking for a powerful electric self-propelled mower, this is the one. It's very easy to start and operate, very quiet, and has mulching or bagging capabilities. This model runs on two rechargeable batteries for extra power and includes a dual port rapid charger.
Best Riding Lawn Mower
Ariens 915279 IKON Limited 52 Inch 21.5hp Kawasaki Zero Turn Mower
For those with large lawns or are otherwise unable to use a push or self-propelled mower, this gas powered Ariens riding mower is one of the best on the market. It is designed for challenging terrain and conditions, equipped with a powerful Kawasaki engine, and offers 13 different cutting heights. The tight turn radius allows you to access parts of your lawn that other riding mowers can't and has extra features for user comfort.