Plan Ahead for Spring, Winterize the Indoor & Outdoors of Your Summer Cabin
Prepare Your Pipes & Building Structure for Winter
End of summer duties require the need to winterize a building. During the warm months, a vacation cabin is a wonderful escape from the everyday hustle and bustle of life. When late fall arrives, it's important to take precautionary measures that will protect your investment and memories. Frozen pipes, fires, wildlife intrusion can often be prevented with just a little time and effort. With a simple checklist and a few supplies, you can easily winterize your cabin in an afternoon.
Supplies to winterize a building/cabin:
Caulk and/or insulation strips
Heat tape or foam insulation for pipes
Tarps and other weatherproof covering
Insect barrier spray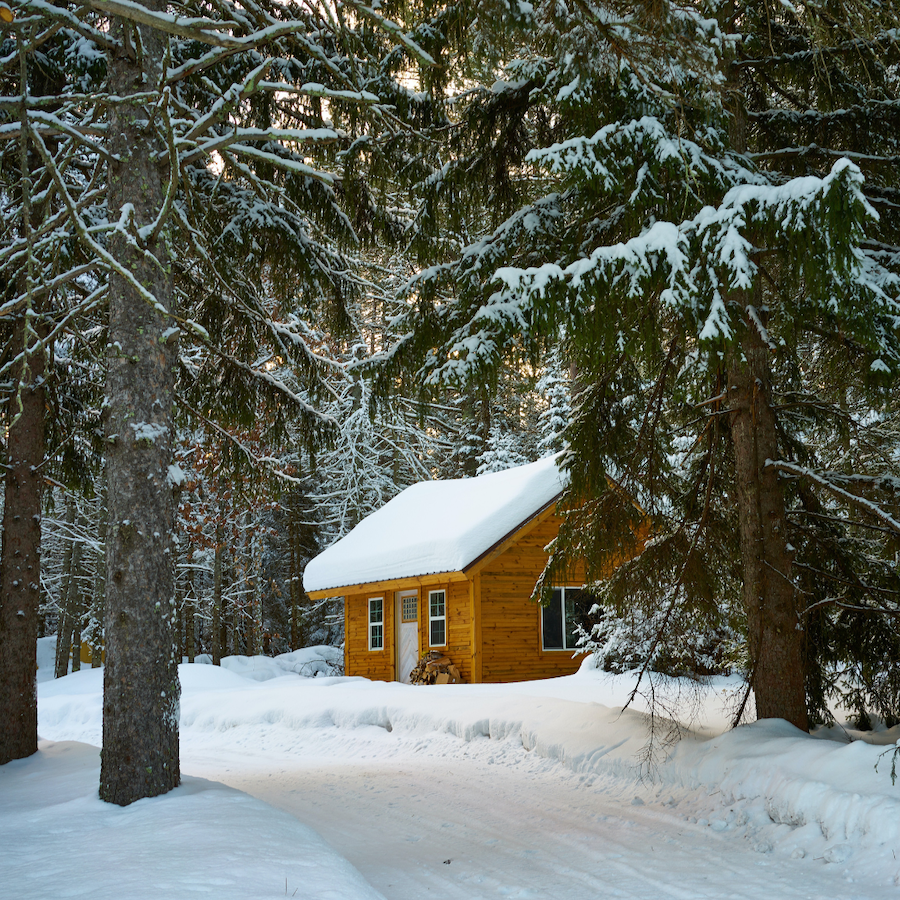 How to Winterize a Building: Indoor
Remove any food or food packaging that may attract wildlife. This includes food in the fridge, trash, and recyclables. If you don't heat your cabin during the winter, also remove canned foods as they may freeze and burst.
Seal any gaps in insulation. Check window and doors, and apply caulk or insulation strips as needed. If you have a fireplace, close the flue, and seal the box to keep wildlife out. To seal the fireplace, you can use an inflatable chimney balloon, fireplace blanket, or foam insulation board.
If you do heat your cabin during the winter, set the thermostat to 50-55 degrees Fahrenheit. If your cabin is well-insulated, it is probably safe to stick to the lower end of this temperature range. Turn off any A/C units in the cabin. Be sure to unplug window units or disconnect the power for central units. Turn off all lights.
Using heat tape or foam insulation, wrap outdoor pipes and indoor pipes close to exterior walls. If you don't keep your cabin heated, you can also wrap pipes under sinks as an extra precaution. Disconnect the power to the water pump or well supplying the cabin. This will prevent water from flooding the cabin just in case a pipe freezes or breaks.
For extra fire safety, extinguish pilot lights and turn off gas supply to the water heater and stove. If you choose to keep the water heater on, adjust the temperature to the vacation mode. Unplug all appliances, televisions, and other electronics. Clean the furnace filter to remove combustible dust and lint.
Winterize a Building: Outdoor
Give the grass one last mow and rake up any leaves, pine needles, or sticks. We don't want these combustible materials anywhere near the cabin.
Clean out gutters and check for any missing or damaged shingles. If you have a fireplace, inspect the chimney flashing for any damage.
3. Protect Outdoor Equipment
If you don't have storage space for outdoor furniture, toys, or lawn equipment, be sure protect them with weatherproof covering. Remove any batteries from toys and equipment, drain water from hoses, and winterize lawn equipment according to manufacturer's instructions. Cover outdoor pipes and spigot with heat tape or foam insulation for pipes.
Spray insect barrier around the cabin and all the way around windows and doors. As an extra precaution, spray around doors and windows inside the house as well.
To prevent a smelly fridge, wipe down doors, shelves, and walls with a vinegar-soaked sponge. For more deodorizing power, put a cup of baking soda in a shallow, open dish and place on a fridge shelf.
For extra insulation around windows, use a window shrink film kit and hang insulating curtains.
Use RV waterline antifreeze to winterize toilets. Make sure to turn off water line and drain the tank, then empty the bottle of RV antifreeze into the tank. Then, hold down flush lever until the tank empties of all antifreeze.