Not Really a Soup, & Not Really Chili
Delicious & Easy For a Weeknight Dinner
It's gotten around a lot lately that it isn't technically a chili if there are beans in it, and this chili with butternut squash recipe has beans in it. However you want to call it, this recipe is still delicious and hearty, due to the beans and the butternut squash.
I have said previously that my culinary revolution took some time, so it wasn't until I had moved to New York that I learned of the fragrant smell of onions and garlic. The irony is that spaghetti was my mother's favorite meal so we had it at least once a week growing up, she would change the noodles between spaghetti and angel hair, but no matter how you dress it, it's spaghetti. Our sauce was always Prego. Everything from a jar. That's not shade on my mom, that's just what I knew. Hell, it's what she knew.
I was living in Inwood in a 10 story building, didn't have a job, was using unlocked wifi in the building as I looked for a job day after day in my apartment. Never fail, in the morning the smell would start. Everyday. It came on me slowly that this is how people cook and feed themselves on the daily, on a base of onion and garlic.
New York is where I learned to cook in earnest. It's where I learned that while in restaurants the vegetarian option is cheese, in recipes the vegetarian option is beans. The beans give the dish flavor, but mostly bulk. And you can add them to almost any vegetable, so I do like soups and chilis, but really, they are all just soups. The name doesn't really change, just the vegetables.
How to make black bean chili with butternut squash
Know before you start: In my description of this recipe I call it easy, but if you look at the overall time on this recipe you see that it is 3 hours. The discrepancy is the beans. If you want to make this dish to the letter of the recipe card, you use dry beans and wait 2 hours whilst they cook. If you choose not to use dry beans, it will cut the time down by at least 2 hours. I think it tastes the same either way the beans come.
Prep: This black bean chili with butternut squash recipe has a bit of a kick to it. If you don't care for kick, pull back on the spices, and the peppers in particular. There are 10 c of water in this recipe, so the spice will have room to dilute.
As far as butternut squash goes, you can purchase cubbed butternut squash in the stores, if you prefer to make it yourself you can find tips & tricks on cutting and cubing in our Butternut Squash Soup Recipe.
Cook: In your handy stock pot, start with your onion, garlic base and spices (also something I learned in New York, spices go in before the majority of ingredients). If you are not using dried beans, reduce the water to 6 cups. You can use water, or do a combination of water and either vegetable or chicken stock.
Serve: Once the butternut squash is soft the chili is done! Divide into bowls, garnish and enjoy!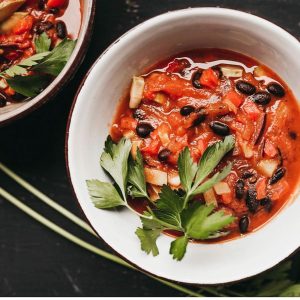 Black Bean Chili with Butternut Squash
Ingredients
1 1/2

T

olive oil

2

onions

chopped

8

garlic cloves

chopped

2 1/2

T

chili powder

1

Tablespoon

ground coriander

2 14.5-

ounce

cans fire-roasted tomatoes

1

pound

dried black beans

rinsed

2

chipotle chiles from canned chipotle chiles in adobo

minced

2

t

dried oregano

preferably Mexican

Coarse kosher salt

1

butternut squash

2 1/4 lb, peeled, seeded, cut into 1/2-inch cubes (about 3 cups)

1/2

c

quick-cooking bulgur

Sour cream

Coarsely grated hot pepper Monterey Jack cheese

Diced red onion

Chopped fresh cilantro

Pickled jalapeño rings
Instructions
Chili
In large heavy pot over medium-high heat, heat oil.

Add onions, cook until soft and starting to caramelize, about 8 minutes.

Add garlic, stir 1 minute.

Add chili powder and coriander, stir 1 minute.

2 1/2 T chili powder,

1 Tablespoon ground coriander

Add tomatoes & juice, beans, chipotles, and oregano.

2 14.5- ounce cans fire-roasted tomatoes,

1 pound dried black beans,

2 chipotle chiles from canned chipotle chiles in adobo,

2 t dried oregano

Add 10 c water, bring to boil.

Reduce heat to low, cover with lid slightly off and simmer, stirring occasionally until beans are tender, about 2 hours. – time will vary depending on freshness of beans.

Season with salt & pepper to taste.

Combine with Squash

1/2 c quick-cooking bulgur

Simmer on medium-low heat, until squash and bulgur are tender, about 30 minutes.
Serve
Divide chili into bowls, top with sour cream, cheese, red onion, cilantro and pickled japaleno rings.


Sour cream,

Coarsely grated hot pepper Monterey Jack cheese,

Diced red onion,

Chopped fresh cilantro,

Pickled jalapeño rings
Frequently Asked Questions
How to thicken chili?
There are a few ways to thicken chili. If it's still on the stove, continue to simmer until you've reached your desired consistency. u003cbru003eu003cbru003eIf you don't have time to continue to simmer the chili, add cornstarch or flour. If you add the cornstarch or the flour directly to the chili it will lump and you won't get thicker chili. Instead, add the cornstarch/flour to water, stir until it creates a paste and then add to the chili. Start with 1 tablespoon cornstarch/flour to 1 tablespoon water and continue from there.
What goes with chili/what do you serve with chili?
You can serve a variety of sides with chili. u003cbru003e1. My favorite is cornbread, but a variety of breads would work as well (breadsticks, french bread covered in butter, etc.). It's great to dip with. u003cbru003e2. A lovely salad.u003cbru003e3. Chips and salsa or guacamole. u003cbru003e4. Grilled cheese sandwiches.u003cbru003e5. Rice.
How long does chili last in the fridge?
Chili will last up to 1 week in the fridge.
Can you freeze chili?
Yes, chili can be frozen. It's easy to freeze, and easy to thaw. When your recipe makes too much, put the remainder in a zip lock bag that won't leak, or a freezable container and place in the freezer. When you are ready to thaw, set out to thaw before either putting into the microwave or on the stove top to bring it to serving temperature.
What beans go in chili?
You can use your favorite beans in your chili, but the best beans to use in chili are kidney beans, black beans, and pinto.
How to make chili in a crock pot?
You could make this recipe in a crock pot/ slow cooker. Once the onions, garlic, and spices are ready you can transfer the mixture, as well as the remainder of the ingredients to the crock pot and let it cook for a couple of hours.