Versatility of Acorn Squash
Using Squash as Part of Your Meal Presentation
This year I've been learning about acorn squash, and I've loved this brown rice & mushroom stuffed squash recipe. I've also loved using the squash itself as part of my meal presentation. It was like art. The color, the shape! There is no impact on flavor, but it's liked the difference between using paper plates and china.
The shape of all the different types of squashes are so unique. You can definitely tell the difference between all the different types of squash. It was the shape of the acorn squash that kept me away from it for so long. What do you do with a wavy squash? Is there even enough flesh on there to do something with?
When I got over my fears and stepped into adventure I was pleasantly surprised at how easy the acorn squash was to cut open, clean, and eat. This is one squash where I do like to eat the rind. A lovely roasted acorn squash with the right spices is just heaven. It's on the sweet side, but don't fear using salt and pepper to enhance the flavor.
How do you make Brown Rice & Mushroom Stuffed Squash Recipe
Know before you start: Acorn squash is my go to for this recipe, but you can use kabocha or pumpkin. The time on this recipe is 1 hour 20 minutes, but you can cut that down making the rice and the squash at the same time. It calls for 4 small squash, which is the only way that acorn squash comes. You will use 1 entire squash to puree as part of the squash stuffing. But if you consider your serving size half a squash, you will have 6 servings.
The squash roasts for 45 minutes, 30 minutes roasting face down, and 15 face up to brown the tops. The browning will add to the flavor. Be careful here, I find that it's easy to over cook the squash, resulting in a squishy squash. The flesh on the squash itself will soften to the point where it melts in your mouth, I don't care for that, it pulls the flavor away from the squash. You'll also want to keep the squash from over cooking to keep structure of the squash rind while you eat it.
Prep: When you prep the rice, you will be flavoring them first, it will only add 5 minutes to your cook time.
Cook: It looks like there are a lot of steps to this recipe, there are just a lot of different things coming together so there will be a lot of setting to the side. Unless you've mastered having all the burners going at the same time. The benefit of using the same skillet for each different section your skillet temperature is constant, and the flavor of the skillet will transfer and enrich the flavor as it goes.
You will need to work to keep all the different sections warm until it's time to combine everything.
Serve: Be careful adding the roasted squash to the blender, and again when you're stuffing your roasted acorn squash. Once they're stuffed it's time to eat! Enjoy!
How to cut acorn squash
Acorn squash can be a little treacherous because it can roll around. If you can't get a firm hold before you cut you can cut off the top of the squash so you now have a flat surface and can cut without cutting yourself.
The best way to cut acorn squash is lengthwise. Once you have the squash cut into halves, take a spoon and scoop out the seeds and insides until the squash is smooth. From here salt and pepper the squash, drizzle light olive oil (the more oil you add, the soggier the squash will become). Place the squash face down on a baking sheet. Add to the oven at 400° and roast.
How to cube acorn squash
Once you have your squash halved vertical and the insides removed, place the squash face down. Make cuts on the squash consistent with the rounds on the squash. I always imagine it like cutting cantelope, because it looks very similar and the next step is the same. Continue to make cuts until you reach the cube size you're looking for. I have yet to see prepared cubed acorn squash in the shops so you're on the hook for this one.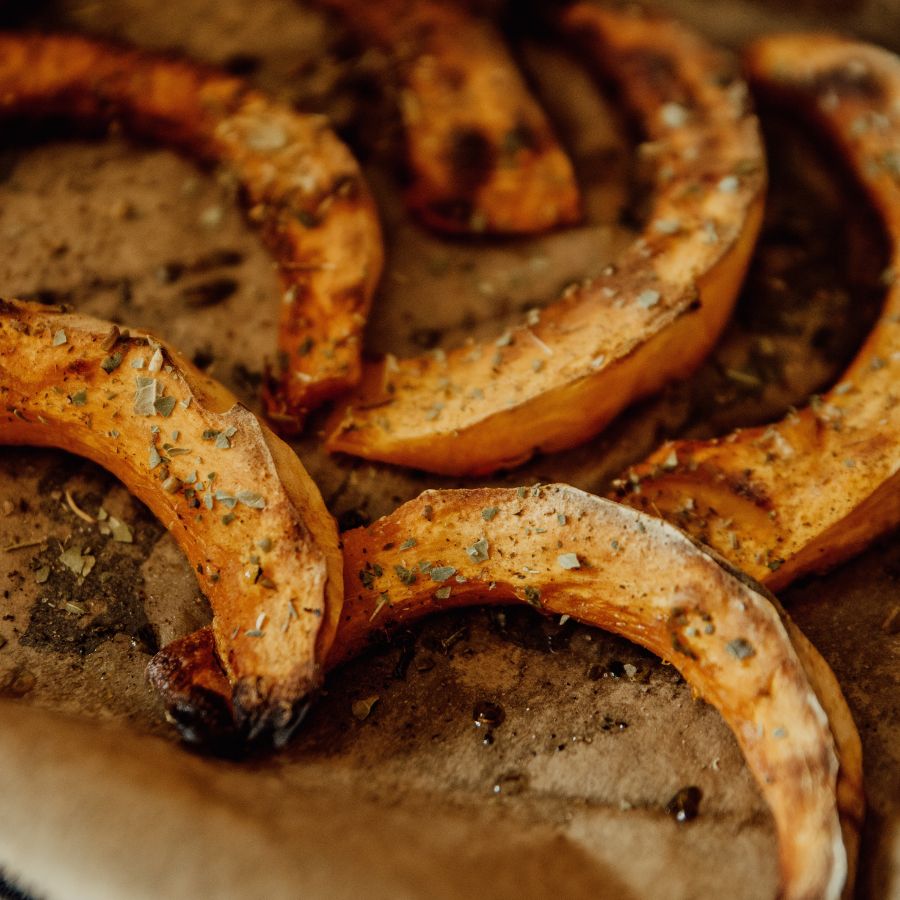 Don't worry about the rind on this squash, you can choose to eat the rind or not. If you undercook the squash the rind tends to be more of a bother.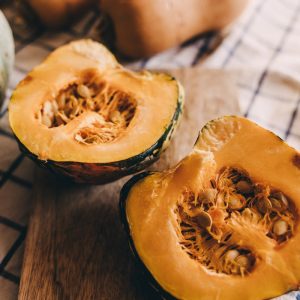 Stuffed Squash with Brown Rice & Mushrooms
Ingredients
For the Squash
4

small winter squash

kabocha, acorn squash, or pumpkin

1/2

T

olive oil

1/4

t

salt

1/4

t

pepper
For the Filling
4

T

olive oil

divided

2

c

brown rice

4

c

low-sodium vegetable broth or water

1

c

diced carrot

1

c

diced shallots

1

c

diced celery

1 1/4

pounds

mix of creminis & wild mushrooms

diced

3

cloves

garlic

minced

1/2

c

white wine

Salt and freshly ground black pepper

to taste

Pinch

cinnamon

1

cup

chopped mixed herbs

parsley, chives, and chervil work beautifully here
Instructions
Prep
Heat oven to 400° F.

Cut squash in half, scrape out the seeds.

Cut small bit off the back of each half to stabilize the front bowl.

Sprinkle with salt & pepper and drizzle with olive oil.
Squash
Place squash face down on cookie sheet and roast for 30 minutes.

Flip squash over and roast for another 15 minutes.

Squash should be soft and golden brown on the surface.
Prep Rice
In a large pot over medium heat, add olive oil and rice.

1/2 T olive oil,

2 c brown rice

Toast rice until fragrant and nutty, about 3-5 minutes.

Stir frequently to avoid burning.

Rice
Stir vegetable broth/water into rice and bring to boil over high heat.

4 c low-sodium vegetable broth or water

Turn heat down to low and cover. Cook for another 25-30 minutes, or until rice is tender.
Veggies
In a large skillet over medium heat, add 1 T of olive oil.

Saute carrot, shallot, and celery, about 5 minutes. Celery and shallots should be translucent.

1 c diced carrot,

1 c diced shallots,

1 c diced celery

Transfer to large bowl and set aside.
Mushrooms
Use the same skillet to heat an additional T of olive oil. Add ⅓ of the mushrooms, take care not to over crowd the pan.

4 T olive oil,

1 1/4 pounds mix of creminis & wild mushrooms

Use medium-high heat and season with ⅛ t salt and a pinch of pepper. Do not stir.

Caramelize the mushroom and allow a crust to form on the bottom of the mushrooms, about 2-3 minutes.

Once crust has formed stir mushrooms together. Continue to cook until mushrooms look evenly browned on all sides.

Repeat.
Combine
Combine over medium heat, all mushrooms, carrots, shallots, and celery. Add garlic and cook for 30 seconds.

Add white wine and scrape all glazed bits from the bottom of the pan. Bring to simmer.

Cook for an additional 2-3 minutes, until almost all wine evaporated.

Remove from heat.

Season with salt & pepper.
Squash
Remove all the flesh from 2 of the squash halves.

Put in food processor with cinnamon and puree until smooth.
Serve
In a large bowl, combine rice, veggie mixtures, and pureed squash.

Stir until combined.

Stir in salt, pepper and cinnamon to taste.

Salt and freshly ground black pepper,

Pinch cinnamon

Stir in fresh herbs.

1 cup chopped mixed herbs

Stuff squashes and serve!